Powerful Businesswomen and Their Posh Pooches
Powerful Businesswomen and Their Posh Pooches
Happy American Business Women's Day! September 22nd marks the anniversary of the founding date of the American Business Women's Association. In 1949, the ABWA was founded on a mission, "to bring together businesswomen of diverse occupations and to provide opportunities for them to help themselves and others grow personally and professionally through leadership; education, networking support and national recognition." Today we commemorate the contributions of more than 74 million American working women and over 11 million women business owners. We thought a fun way to celebrate would be to highlight some powerful business women who share their lives with some pretty posh pooches.
We also thought today would be a great day to introduce our newest giveaway! Cold Nose Lodge is celebrating business travelers with this giveaway. You work hard and we'd love for your pup to play hard while you're away. Enter now to win luxury dog boarding for your best friend while you are away on business.
Prize: Weeknight dog boarding – 3 days, 2 nights
Learn more about Cold Nose Lodge's dog boarding here: http://coldnoselodge.com/info/luxury-boarding/
This giveaway is open to new clients only. Are you a current client? Share this giveaway with a business traveler you know so that your pups can play together at the Lodge!
Now, on to our list!
1. Sheryl Sandberg
I thought Facebook COO, Sheryl Sandberg, would be a great way to kick off this list. Author of the best selling book "Lean In: Women, Work, and the Will to Lead," she lives the mission of the ABWA. "Lean In" delves into how women's voices are not always heard in the workplace and has sold over 2.25 million copies. This Harvard alumna twice over advocates for women tirelessly and launched the Ban Bossy campaign that encourages girls to lead. She shares her home with a very handsome Labrador Retriever.
View this post on Instagram
2. Mary T. Barra
GM CEO Mary T. Barra is the definition of self-made. She started working at GM at 18, and has climbed the ranks all the way to CEO. She inherited her position in the midst of crisis. A faulty ignition switch linked to 124 deaths promoted the recall of 2.6 million cars. Instead of minimizing the crisis, she continues to tell employees, "I never want to put this behind us."  Her office features a quote from Sheryl Sandberg, reading "Let's kick the s— out of option B." This strong leader goes home to two Coton de Tulears, who we're sure make her smile on those hardest of days.
3. Peggy Johnson
"Deal-maker-in-chief," Peggy Johnson is Microsoft's Executive Vice President of Business Development. Before joining the team at Microsoft, she served as Executive Vice President and President of Global Market Development at Qualcomm. In her current position, she's helped to lead over 40 investments with Microsoft Ventures, including the acquisition of LinkedIn for $26 billion. This animal-lover still finds the time to enjoy her 4 dogs and cat!
4. Melinda Gates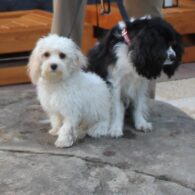 I'm sure you're familiar with philanthropist Melinda Gates. Co-founder of the Bill & Melinda Gates Foundation, Melinda Gates formerly worked at Microsoft. She was a project manager for Microsoft Bob, Encarta, and Expedia. Her foundation is "Guided by the belief that every life has equal value, the Bill & Melinda Gates Foundation works to help all people lead healthy, productive lives. In developing countries, it focuses on improving people's health and giving them the chance to lift themselves out of hunger and extreme poverty." Gates shares her home with two adorable pups, Nilla and Oreo. They stay out of the spotlight, but we can only imagine how comfortable their lives are.
5. Susan Wojcicki
Susan Wojcicki assumed the role of CEO of Youtube in February of 2014. Featured on Forbes Power Women and America's Self Made Women lists, she is also a Salesforce.com board member and was Google's 16th employee. She shares her Los Altos home with an adorable, happy spaniel.
View this post on Instagram
6. Pam Nicholson
CEO of Enterprise Holdings, Pam Nicholson has grown the world's largest car rental company's revenue to more than $22 billion across its three brands, Enterprise Rent-A-Car, National Car Rental, and Alamo Rent A Car. One of Fortune's Most Powerful Women makes time to volunteer at her local humane society. She jokes that, she's "constantly fighting the urge to adopt more dogs." She hasn't succeeded every time! She currently has three dogs, a Shepherd mix, a Maltese, and a Papillon, all rescues. She has shared that her animals are like her children, and that volunteering with the shelter is her passion.
7. Vera Wang
Fashion designer Vera Wang, was a senior fashion editor at Vogue for 15 years, and then a design director at Ralph Lauren before designing her own wedding dress, opening a bridal boutique, and launching her signature collection. Her brand has grown to include fragrance, jewelry, eyewear, shoes, homeware, and more affordable diffusion lines at Kohl's and David's Bridal. Wang shares her home with 5 little dogs. She has two sets of littermates, Yorkies Lucy and Sam who keep Wang company while she sketches, and Pomeranians Frankie and Lola who love to lay poolside. She also has a little chihuahua named Cooper who often models silk bows. What a life!
8. 
Sophia Amorouso
At 22, Sophia Amorouso started an eBay store featuring vintage clothing and items named "Nasty Gal Vintage." Nasty Gal transformed into a clothing retailer that went on to  become one of the fastest growing companies in 2017, but unfortunately seemed to fall just as fast. Amorouso however, didn't miss a beat and put her heart into her newest company, Girlboss Media. The cutest miniature poodles have stuck by her side as she navigates these ventures.
View this post on Instagram
9. Diane Von Furstenberg
Princess gone fashion designer Diane Von Furstenberg rose to fame in the fashion world when she introduced the "wrap dress" in 1974. Her fashion company, DVF, has 45 shops worldwide and is available in over 70 companies. This designer's work is so influential in the world of women's fashion, it's featured in the the collection of the Costume Institute of the Metropolitan Museum of Art. In 2014, she joined the Ban Bossy campaign that Sheryl Sandberg, the first business woman on this list launched. Diane Von Furstenberg loved her Jack Russell named Shannon so much that she did something that I think most people find a bit bizarre. She cloned Shannon!! The result was two little twins Evita and Deena. They have both, of course, have dresses named after them.
View this post on Instagram
10. Oprah Winfrey
This list would not be complete without the eponymous Oprah. Oprah Winfrey is not only a former talk show host, but a media executive, actress, producer, and philanthropist. The Oprah Winfrey Show was the highest-rated television program of its kind in history. She's loved many "fur children," as she calls them, over the years, but her current family consists of two Golden Retrievers, Luke and Layla, Cocker Spaniel Sadie and Springer Spaniels Sunny and Lauren. Oprah adopted all of her dogs, and she has been vocal about fighting puppy mills and rescue.