DOG TRAINING
DOG DAYCARE
DOG BOARDING
Dog Daycare is an excellent way to provide dogs with physical and mental stimulation in a secure environment supervised by trained professionals.
At Cold Nose Lodge, dogs board in private suites, where they can rest after a day of play with friends.
We believe dog training should be based on a relationship of trust, not fear. For that reason, we use positive reinforcement, redirection and luring to train dogs at the Lodge.
Add our enrichment program to your dog's day of play. They learn while having fun.
Appointments for baths and nail trims are available add-ons to a dog daycare or dog boarding visit every day.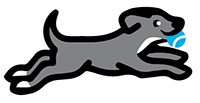 HAPPY DOGS MAKE HAPPY HOMES
Our founder, Rayne, noticed a trend while working in animal welfare and rescue. Many wonderful dogs end up in shelters because of behavioral issues. These issues could be eliminated with proper dog training and adequate exercise. Keeping more dogs in happy homes was Rayne's vision when she established Cold Nose Lodge in 2008. It's what gets us to work every day.
We care deeply about animals. We aim to put you at ease while your dog is with us. We offer both full and half days of dog daycare and dog boarding suites with toddler beds or cots. All of our boarders spend most of the day in play groups, so they are nice and tired by bedtime.
In every interaction we have with your dog, we operate on a relationship of trust. Cold Nose Lodge has wonderful trainers on staff that practice trust-based dog training. We also offer a variety of options including dog training classes and customized private training programs.
We are conveniently located in Alburtis at 235 W. Penn Ave., less than two miles from Route 100. Our facility is 8,000 square-feet of indoor space complete with a four zone heating and air conditioning system. We have an additional 7,600 square-feet of fenced outdoor play areas.
We are excited to announce that we are poised to expand at our current location. Exciting things are coming!
Call us at (610) 965-3647 with any questions or to register for training, boarding or daycare.
---
By submitting this form, you are consenting to receive marketing emails from: . You can revoke your consent to receive emails at any time by using the SafeUnsubscribe® link, found at the bottom of every email.
Emails are serviced by Constant Contact
235 West Penn Ave., Alburtis, PA 18011