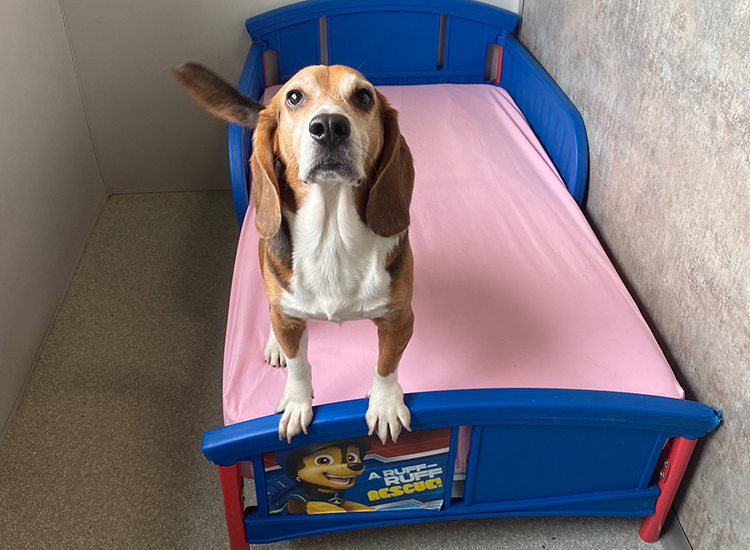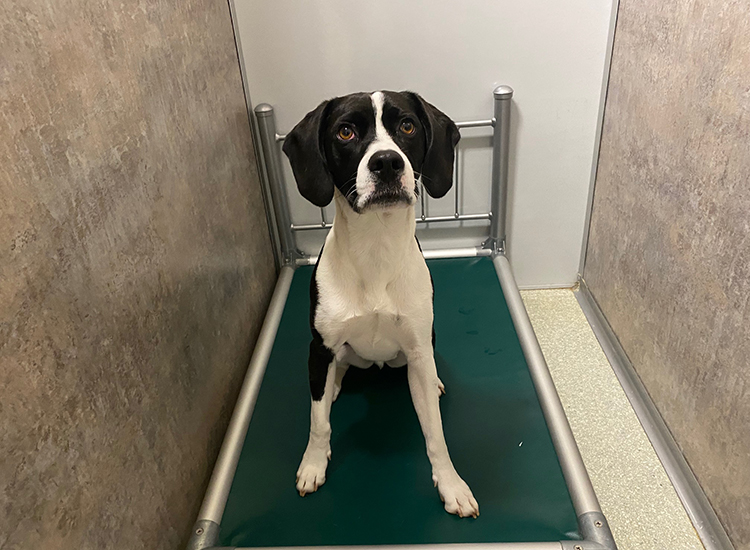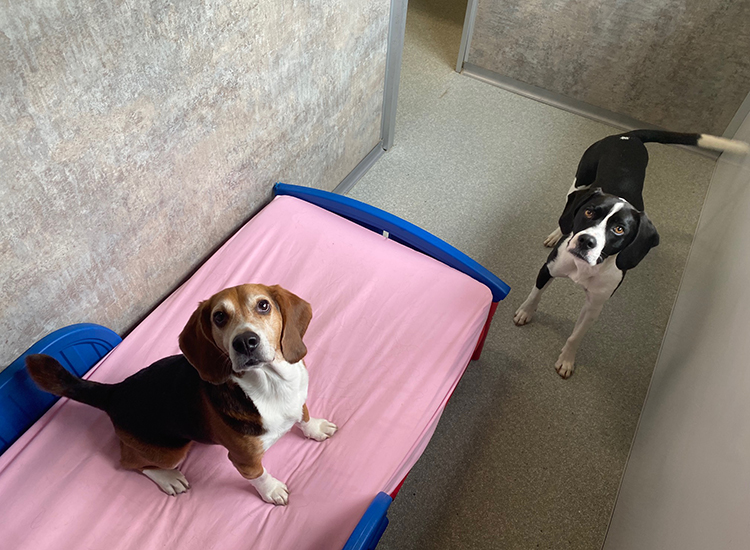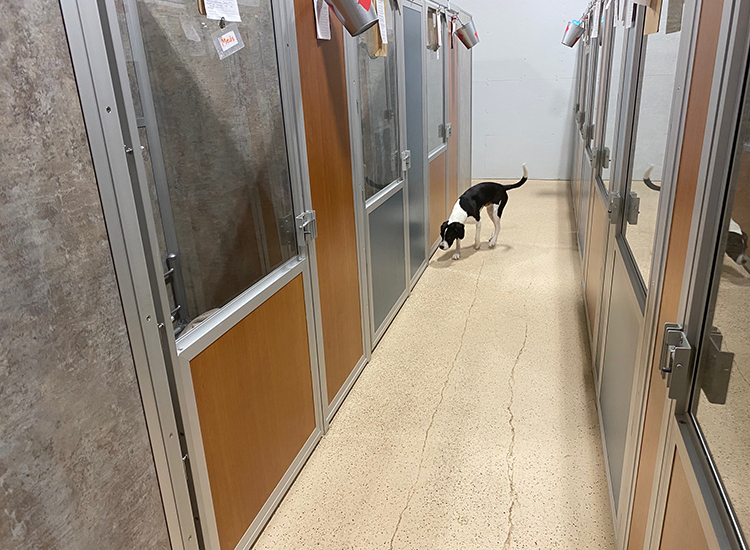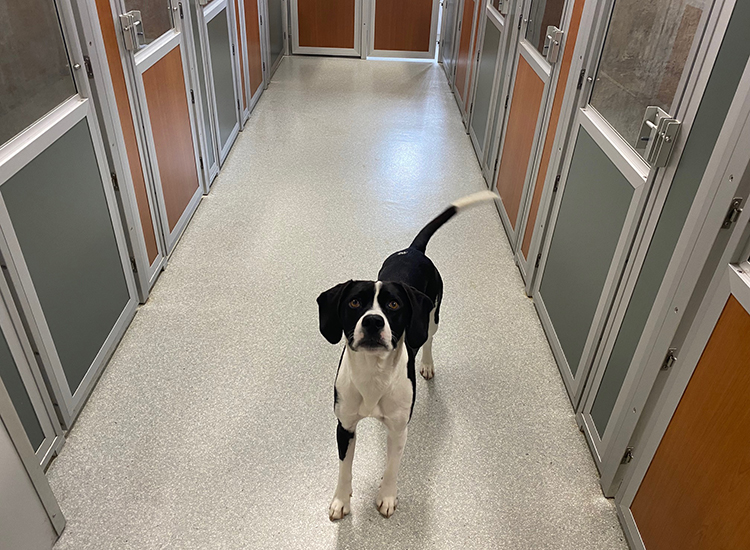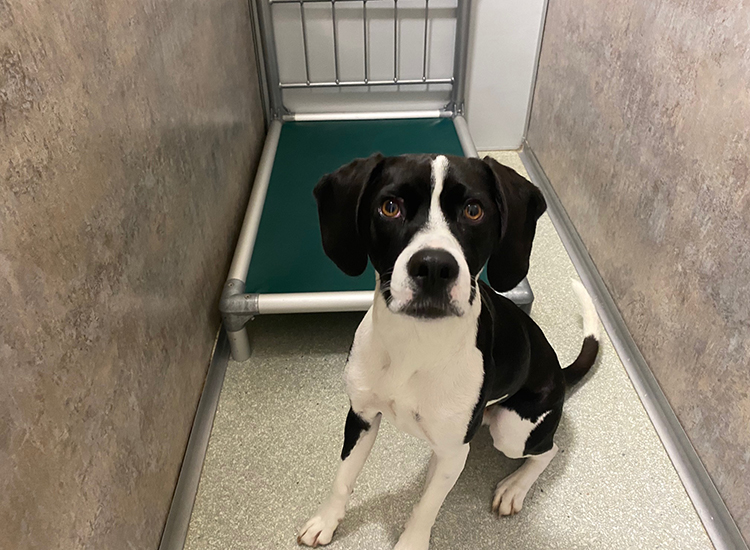 At Cold Nose Lodge, dogs board in private suites, where they can rest after a day of play with friends.
Dog Boarding RequirementsOne of Cold Nose Lodge's guests enjoying a boarding stay at Cold Nose Lodge
In order to board:
New clients: Dogs must attend an introduction where we evaluate their compatibility with our open playgroup environment.
Returning clients: If it has been longer than 12 months since your dog's last visit, we require a half or full day of daycare prior to their stay. Call or text us at (610) 965-3647 to schedule.
Dogs over 6 months of age must be spayed or neutered.
Dogs must be current on Rabies, and Distemper/Parvo vaccines. The Bordetella vaccine is strongly recommended.
Dogs under one year of age must have a negative fecal exam.
Dogs must be free of fleas and ticks.
Our goal is a stress-free environment for all dogs. We cannot accept new geriatric, deaf, blind, or immunocompromised dogs for day care and boarding. For dogs experiencing these conditions, the day care environment can be extremely stressful.
What to Pack
Once your dog is approved to stay with us, don't forget to bring:
Your dog's food and any treats you'd like them to enjoy. We also offer special "room service" treats you can sign up for at check-in.
Blankets, toys, or other special items to make the boarding suite feel even more like home. They must be able to have these items unsupervised.
Medications if needed. Any medications are administered free of charge. Please bring your medications in their original packaging.
How Will My Dog Spend Their Boarding Days?
All dogs on vacation at the Lodge must attend dog daycare. Boarding dogs spend 10 hours of their day socializing with other dogs and only retire to their suites for meals, naptime and overnight. In order to attend daycare, they must pass a basic temperament test, showing they are friendly and attend at least one half-day of daycare prior to their first extended stay with us.
"EXCELLENT service, caring staff. You can feel good about leaving your dogs when you go away!"
-Densie Cassidy-Dietsch
"Best place to send your dog while you're away, hands down! The staff love all of the dogs and are friendly and helpful! I had no worries about my dog while I was away on vacation because I knew he was in such great hands at the Lodge! Very clean and well run! The staff also does a great job ensuring everything is done the way you want it! Thank you, Cold Nose!"
-Danielle Green
"Friendly staff. Always giving love to our pet as seen on web cam! Never worry when our Riley is there."
-Shaun Flynn
"Chevy absolutely loves his vacations at Cold Nose! The staff is so caring and professional, the facilities are always super clean and I can completely relax and know he is in the best hands. By far the best place I've ever boarded my furry kids. Oh and the live webcams are totally an added bonus. I love that I can watch him playing with his friends while I'm vacationing as well. Wish I could give 10 stars!"
-Kathy Henninger
Dog Boarding Pricing:
When vacationing at the Lodge, all dogs enjoy fun days of daycare with 10 hours of play. They only take breaks for naptime, mealtimes, and to sleep at night. The price of daycare, which all dogs must attend is $32/per day. The full price of a boarding stay is the price of daycare ($32/day) plus $20/night. We encourage all dogs to arrive in the morning on their drop-off day. The full day of play makes their first night away from home less stressful. There is no charge for daycare on your last day if you pick up by 9 AM.
Dogs from the same family are more than welcome to share a suite for an additional $10/dog per night. Remember that each dog is required to attend daycare.
Discounts:
There is a 5% discount for extended stays that are 10 nights or longer. Additional discounts are available with the use of daycare passes. Pricing for daycare passes is on our daycare page. We also offer discounted and free grooming services for boarding dogs!
Call us at (610) 965-3647 if you have any questions on our pricing. Dogs may be picked up or dropped off any day, except Easter, Thanksgiving or Christmas.
Drop-Off Times:
7:00 – 9:00 AM
4:00 – 6:00 PM
Pick-Up Times:
8:00 – 9:00 AM, Noon, or 4:00 – 6:00 PM
(Additional times are available by appointment.)
Cold Nose Lodge offers training while boarding.
Call or text us at (610) 965-3647 to book your dog's boarding stay today!
"Cold Nose is wonderful!!! We really struggled with the idea of having to board our dogs (babies).. We've always relied on family members to care for our animals but with two energetic, crazy, 10 month old pups – that's a lot to put on friends and family! We were recommended CNL by several people we know and we're so glad they did!
Their boarding program is lovely. It's not like conventional boarding where your pet will spend the majority of their stay confined to a crate, only coming out for scheduled walks, etc. CNL breaks their program into boarding for the evening / daycare for the daytime. After every stay with CNL, whether extended or just spending the day, our girls come home whooped from all of the activity!
One of the things we love about CNL is that they have a camera system you can log into to check on your dogs during the day. Granted, if the weather is nice they are outside more than inside; so you might not catch them too much in the playrooms. Speaking of which, the playrooms are nice and big! They have two rooms, the "Big Dog Room" and the "Small Dog Room" – each with play equipment and plenty of toys!
Another thing we love about CNL is their ability to house multiple dogs together. Our girls are actual siblings and they sleep together at home. At CNL, they're kept in the same "room" together at night which I know comforts them as much as it comforts us! They supply a toddler bed and sheet, but they also allow you to bring in personal items as well.I could go on – but in short, we highly recommend Cold Nose Lodge! We truly have such peace of mind when we leave them :)"
-Holly H.